Partnership programs focused entirely on annual recurring revenue (ARR) and lead sharing are missing out on a significant opportunity to increase customer lifetime value (CLV). It's true, marketing agencies and consultancies are great lead sources as trusted advisors–particularly for clients targeted by data, analytics and marketing SaaS companies. However, there's a much bigger partnership opportunity for technology companies willing to build collaborative agency partnerships, which reach beyond reseller and referral programs.
Roboboogie has evolved and refined its partner offering for over ten years. We're fiercely committed to nurturing deep and meaningful partnerships founded in the basic principles of synergistic relationships and lead sharing. We take this further with our preferred partners into co-selling, onboarding, managed services, customer success and expansion.
The following list highlights engagement opportunities Roboboogie brings to SaaS technologies as an agency partner.
Lead-gen and Reselling – Lead-gen and reselling is number one on our list. Sharing leads and connections requires both teams to have a deep understanding of each other's products and services, including an accurate awareness of scope and reach, proportionate to respective target markets. Don't overlook smaller technologies or boutique firms, which can be more strategic and willing to collaborate on more creative engagements.
Co-Selling – At Roboboogie, we made a decision to only partner with technologies that make our client engagements more effective and efficient, thus becoming authentic third party advocates for your tech. Tools like A/B Tasty and FullStory make excellent partners and have helped simplify projects for our clients and our internal team. Put us in a room and we'll sing your praises!
Implementation and Integration – Our work requires us to take a broad look across the technology stack and various business use cases and applications for technologies. We often have visibility into which technologies play well together and an awareness of key integration points. We also staff skilled engineers, so it's a great place to involve us to identify and advocate for integrations and make those connections for clients quickly and cost-effectively.
Training – Before any partnership, we become experts in your platform with deep hands-on, real world application experience. By enabling Roboboogie staff to have on-the-job training–often in roles that mirror those in an organization–we can relate to the specific workflow, challenges and objectives particular business units face. For example, if a FullStory client wants to understand how the tool can optimize their A/B testing strategy, we can show them. It's what we do every day. Roboboogie's technology consultants leverage our experience and knowledge to help your clients understand how to get the most out of your tool, unlock strategic insights and drive adoption.
Adoption – Adoption takes time and intention (and a village). Throughout onboardings we always ask "What is your adoption strategy?". This can reveal whether the client understands the difference between training and real adoption. Adoption is critical to CLV, but we often see folks who expect their team will simply love the tool and start using it, without any plan, leadership or direction. We are able to drive adoption by training, supporting, and working in the platform with our clients. This ensures the client's ROI and lays the groundwork for retention and expansion.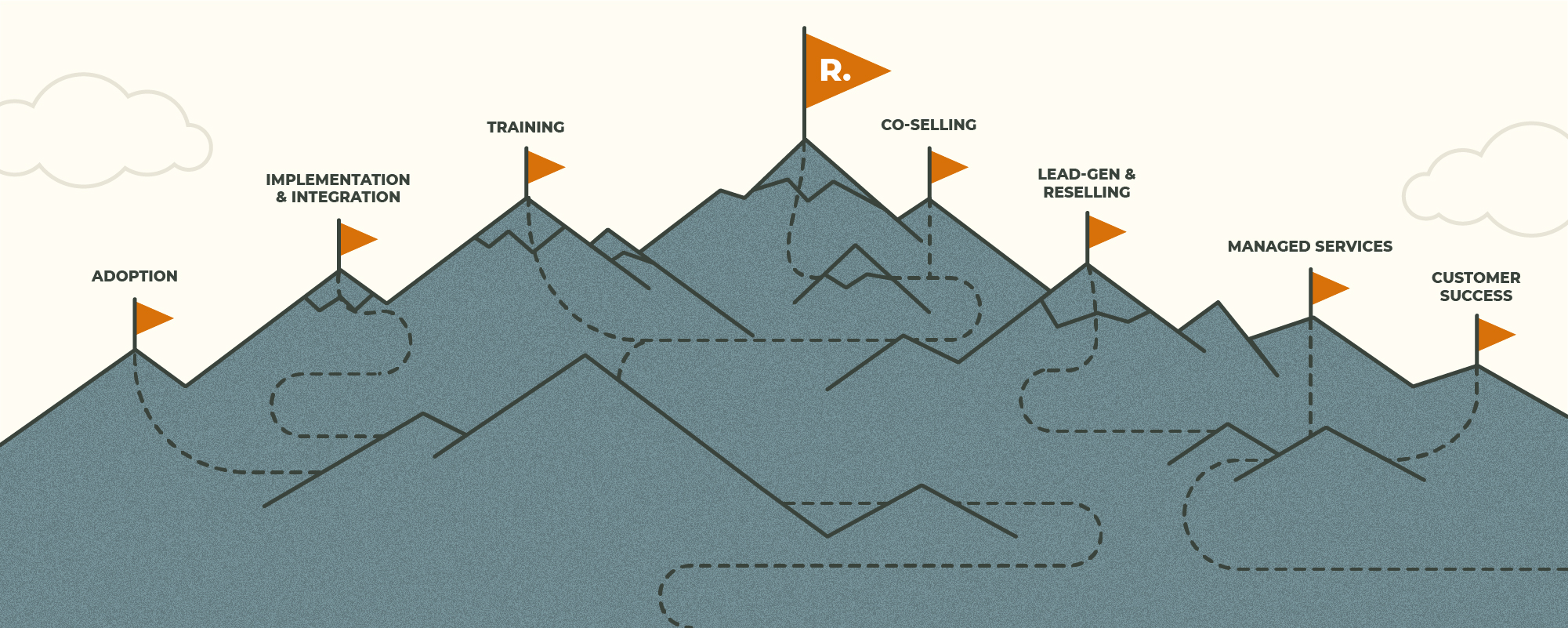 Managed Services – Offering to manage technology or digital transformation programs using your technology is our "bread and butter". There is a strong ROI case for your clients looking to get the most of their investment by working with dedicated experts. We work hard to actively up-sell and cross sell your technology and its capabilities, providing an insider voice for your technology at every opportunity. Because we're spending more time with the client and touching more areas of the business, it's no wonder we're a frontline asset for growing accounts.
Customer Success – As a digital transformation agency, we only succeed when we make performance improvements. That's why we're so selective about partnering with the best technologies, which continually drive results for our clients. We have a vested interest in making sure our clients purchase those technologies and use them as effectively as possible. Focusing on our clients' success allows us to have conversations that impact activation, retention and growth. It also empowers our team to provide real-time support for your tech, solve current challenges and educate users on the benefits of new features.

Looking beyond ARR to form meaningful and lucrative relationships with agencies takes time and a commitment to building trust and understanding. However, we believe it pays off both in the short term by setting up successful relationships and in the long term by growing and retaining accounts.
Start building these deep and meaningful relationships so you can focus on making your technology the most valuable asset to your clients.
All the best in partner success.