Last month, our team flew 2,700 miles to the "City of Magic" to attend the inaugural Catalyst conference . While Miami is typically known for its breathtaking beaches and vibrant nightlife, it's also a budding hub for tech and innovation. Now back in Portland, our team is ready to unpack our trip and spread some Miami magic to our work! Hint: we had yachts of fun!
What is Catalyst?
Catalyst is a two-day conference for partnership professionals at technology companies. The event is packed with workshops and training sessions, networking opportunities, and thought leadership from some of the brightest minds in the partnership space. The event is organized by Partnerships Leaders, an industry association focused on building a community where the best in partnerships, channel and ecosystems come together to share knowledge, connect and grow their programs. They also throw amazing yacht parties!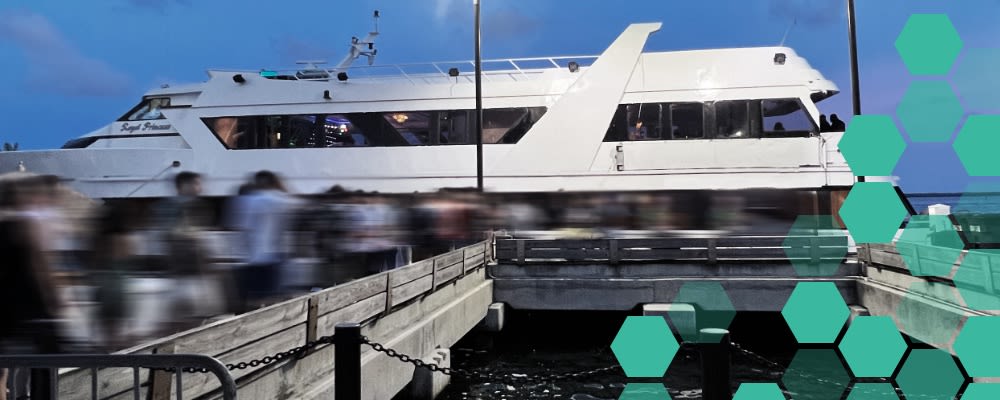 Friends, new and old.
We had the opportunity to hang with our partner pals over at FullStory and gush about our love of their powerful digital experience analytics tool. As their Elite partner, we're experts at helping FullStory customers onboard and utilize the platform to its full potential. Our team uses it daily to help turn user pain points into conversion opportunities through our systematic approach to AB testing.
We also had the pleasure of meeting new friends from Crossbeam, Reveal, and Allbound, tools that enable partnership teams to efficiently build and optimize their partner programs.
We also connected with Qualtrics, an experience management platform focused on uncovering insights that lead to a better user experience.
Three Key Takeaways
Partner up!
Partnerships are more important and impactful than ever. Technology partnerships exist to help organizations implement and optimize the tools they use. We heard from the biggest and best technology players that good partners are invaluable and can be counted on for enablement services, driving adoption, and creating sales opportunities. Throughout Catalyst we talked with technology companies working to optimize their partnership programs.
Champion partners internally.
The importance of aligning internal teams around the value of partnerships was a common theme throughout the conference. Partnerships should be viewed as an extension of an organization's internal team; they go together like peanut butter and jelly. Below are our quick tips for a successful partner relationship:
Provide internal education around the vision and goals for working with partners.
Build a dedicated partnership team and clarify its mission.
Attribute partner-influenced revenue to demonstrate the impact of partnerships.
Make sure everyone on the team understands how partners can help them reach their goals.
Let's do this together.
Building a partnership based on mutual gain is a recipe for long term success. It's important to nurture the relationship and acknowledge that giving is just as valuable as receiving.
Do your homework. Research your partner's business, KPIs, goals, and customers. Keep those insights top of mind as you navigate through the relationship.
Set clear expectations upfront and practice open communication throughout the partnership.
Deliver clear and comprehensive examples of how you can add value to your partner and their customers.
Remember that a partnership is a team effort. You share a common goal of creating a better experience for the customer, and when this happens, everyone wins.
The Future of Partnerships at Roboboogie
We're excited to be a part of the Partnership community and look forward to attending Catalyst again next year. As for what we'll be doing at home – Armed with the knowledge and insights we gained at Catalyst, we look towards building strong relationships with our future partners and supercharging our existing ones. Want to learn more about our partner program? Let's chat!